The Texas Department of Public Safety (DPS) administers the Concealed Handgun Licensing (CHL) Program under the authority of the Texas Government Code Chapter 411, Subchapter H. DPS licenses individuals to carry concealed handguns within Texas, evaluates the eligibility of applicants through criminal history background checks and monitors those currently licensed to ensure their continued eligibility. DPS also trains and certifies instructors who teach the required course to applicants.
All Original CHL applicants are required to submit fingerprints to DPS as part of the complete CHL application. You can visit the DPS website to learn more.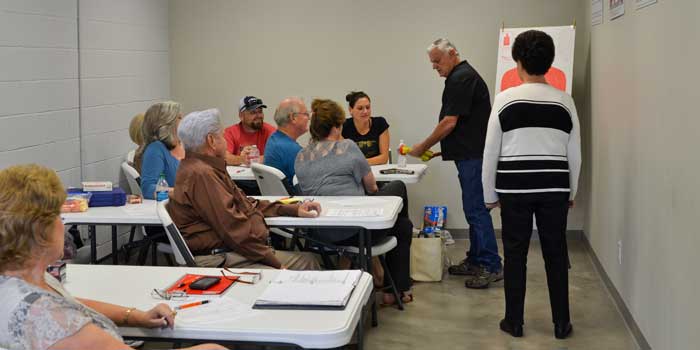 Shooting Sports & Training Centers of Texas offers CHL Training Classes taught by DPS licensed instructors. This class consists of the required 4-6 hours of classroom instruction and includes your range time needed to qualify in the shooting portion of the licensing requirements.
Per DPS guidelines the CHL program is not designed to teach one how to shoot a firearm. You should be proficient with a handgun before taking the CHL course. Be wary of any instructor claiming to be able to teach an applicant to shoot, and be proficient enough to pass the shooting proficiency exam, in the 4 to 6 hour CHL class. This is in fact against DPS guidelines. If you have any concerns about your proficiency with a handgun we do offer individual and group classes in basic firearms training. Please contact us if you have any questions.
STEPS TOWARDS ATTAINING A CONCEALED HANDGUN LICENSE

Conduct an objective self-assessment of your handgun proficiency skills. If you have any doubts as to your handgun shooting skills, we highly encourage you to participate in a basic firearms training course. If you are new to shooting handguns or it has been long time since you last used your firearm, then we highly encourage you to consider taking a basic firearms training course.

All first-time CHL applicants must complete a 4 to 6 hours of classroom training, pass a written examination, and pass a proficiency demonstration (shooting). All classroom and proficiency testing must be conducted by a DPS certified CHL Instructor.

Upon successfully completing a CHL course (both classroom and shooting proficiency), then apply for your Concealed Handgun License by completing the DPS application form online at DPSí website at http://www.txdps.state.tx.us/rsd/chl/index.htm. Note: You can submit the DPS application form online prior to taking a CHL course, but most applicants take the CHL class prior to completing the DPS application.
The CHL class taught at Shooting Sports & Training Centers of Texas includes the required hours of classroom instruction, a written examination, and a shooting proficiency test on-site at our range. You will need to have your firearm in good working condition, 50 rounds of ammunitions appropriate for the firearm, and eye and ear protection. We do offer gun rentals, as well as eye and ear protection on site, for our customers.
The DPS CHL application fee does not include the CHL course fee and vise-a-versa. They are separate fees.